ABOUT
EYESONTHEWALL Ltd. has it's roots in the 'Roundhouse AV Collective', which was founded in 2010 under the guidance of SDNA and supported by The Roundhouse, London. In early 2011, when Roundhouse AV Collective officially disbanded, the decision was made to step up and continue as EYESONTHEWALL ltd..
EYESONTHEWALL Ltd. are working across a number of styles, platforms and themes, combining technical expertise and artistic understanding to deliver bespoke visual content for the creative/media/entertainment industries, private, corporate and community clients.
The areas of our expertise include the creation of moving image, photography and projected media for live performance and events. Working alongside internationally acclaimed and emerging musicians, EYESONTHEWALL Ltd. aim to produce visually rich yet distinctive and individually oriented media performances. Being aware of the latest technological innovations and creative trends, we remain attentive to the specificity of client's needs, providing conceptualisation and video design together with technology solutions and actual realisation.
TEAM
EYESONTHEWALL Ltd. is a team of interdisciplinary artists, producers, and media professionals delivering fresh visual solutions. Our multi-cultural backgrounds and long professional experience within the industry secures a unique approach to each project and enables us to work worldwide.
Valeria Meng - Co-Founder & Creative Director
Video Director/Video Editor
valeria[at]eyesonthewall.net
Roman Knipping-Sorokin - Co-Founder & MD
Project Management/Coordination/Consultancy
roman[at]eyesonthewall.net
Philipp Morozov - Director of Photography/Colorist
philipp[at]eyesonthewall.net
CLIENTS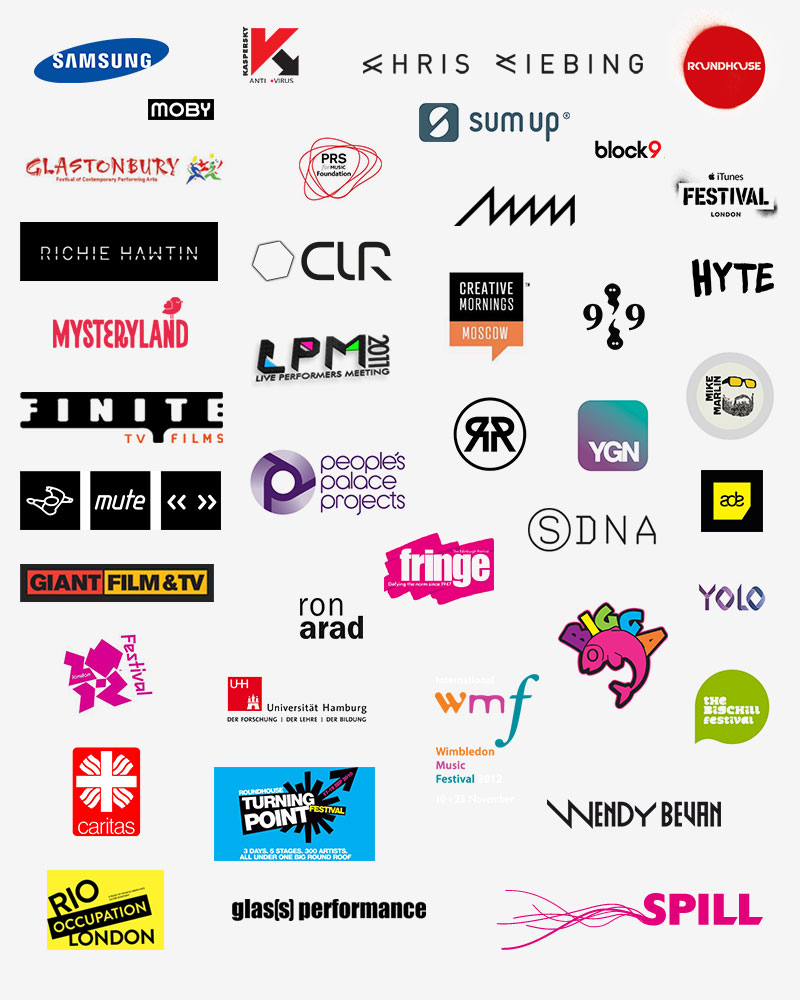 WORK
During the last years our work was showcased in various FESTIVALS including:
- Amsterdam Dance Event '14 & '15
- Fringe Festival Edinburgh '12 & '15
- Spill Festival
- iTunes Festival
- Turning Point Festival
- Pause Festival, Melbourne
- Pulse Festival
- Glastonbury Festival '10, '11, '12
- Olympic Festival London 2012
- Electrovision
- East End Film Festival
- IBIZA Music Video Festival
- Roundhouse Rising '11, '12, '13, '14, '16
- Kinetika
- Veedels Film Festival Cologne '14
- London Short Film Festival
- LPM Rom & Eindhoven
- International Wimbledon Music Festival /London
And has been presented in acclaimed VENUES worldwide:
- The British Film Institute BFI /London
- The Roundhouse /London
- Koko /London
- V22 /London
- V&A /London
- Stubnitz /London
- COB Gallery /London
- Fabrik /Madrid
- Toynbee Studios /London
- Arena Berlin
- Rich Mix /London
- Odonien /Cologne
- Hoxton Docks /London
- Gallery223 /London
- Village Underground /London
- The Broadway Barking Theater /London
- The Old Truman Brewery /London
- Westbourne Studios /London